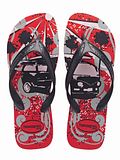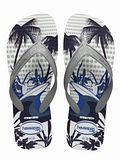 Havaianas (Brazilian Portuguese: [ˌavɐiˈjʌnɐs], usually pronounced by Americans as: [ˌhaviˈanəz].) is a Brazilian sandal brand (also known as flip-flops, thongs or jandals) that is exported internationally, for example, being featured at several stores in the United States and the Philippines. Since their creation in 1962, more than two billion pairs have been manufactured.
The flip-flop is originally a New Zealand invention, inspired by the Japanese rice straw and wood zori sandals used with kimono. Havaianas follow the original simple, functional design and sometimes feature a small symbol such as the Brazilian flag on the strap. The name Havaianas is Portuguese for Hawaiians.
There are several types of Havaianas, ranging from the traditional flat-heeled model to platforms.
Havaianas are produced by São Paulo Alpargatas SA. In its plant, located in the city of Campina Grande, five pairs of sandals per second are produced, generating an annual production of 105 million pairs.
More varieties and Get it online
here
.